Quick Overview
After the huge success of Lifan KPR 150, Rasel Industry who is the sole distributor of Lifan in Bangladesh bought "Lifan KPR 165" version. Lifan's sport bike already won the hearts of local fashionable bikers.
- Initially the model was a carburetor edition, but now it's available with Electronic Fuel Injection (EFI), Which is now more refined and smoother than before.
- The speedometer is fully digital which has gear shifting display, digital clock, odometer, trip meter and fuel gauge added.
- Engine performance and design of this model is outstanding. Comparatively low price is the key of "Lifan KPR 150".
The bike uses a 165cc engine, which is a 4-stroke, 2-valve, single cylinder, Vertical engine. It can produce maximum power 16.8 BHP @ 8000 RPM and maximum torque 17 NM @ 6500 RPM. Lifan claims that its top speed is 135 Kilometers per hour. And mileage near about 38 Kilometers per liter. More details about this bike is given below.
সংক্ষিপ্ত বিবরণ
Lifan KPR 150 এর বিশাল সাফল্যের পরে, রাসেল ইন্ডাস্ট্রিজ লিমিটেড যারা বাংলাদেশে Lifan মোটরসাইকেলের একমাত্র পরিবেশক তারা "Lifan KPR 165" সংস্করণটি বাজারে আনেন। Lifan এর স্পোর্টস বাইকটি ইতিমধ্যে স্থানীয় ফ্যাশনেবল বাইকারদের মন জয় করে।
- বাংলাদেশে প্রথমদিকে এ বাইকটি কার্বোরেটর সংস্করণ ছিল তবে এখন এটি ইলেক্ট্রনিক ফুয়েল ইনজেকশন বা (ইএফআই) এর সাথেও পাওয়া যায় এবং এটি এখন আগের তুলনায় আরও পরিশ্রুত ও মসৃণ।
- এর স্পিডোমিটারটি সম্পূর্ণ ডিজিটাল যা এতে গিয়ার শিফটিং ডিসপ্লে, ডিজিটাল ক্লক, ওডোমিটার, ট্রিপ মিটার এবং ফুয়েল গেজ যুক্ত করেছে।
- বাইকটির মসৃণ ইঞ্জিন এবং এটির ক্ষমতা, অসামান্য ডিজাইন এবং তুলনামূলকভাবে কম দাম হ'ল "Lifan KPR 165" এর মূল দিক।
বাইকটিতে 165 সিসি ইঞ্জিন ব্যবহার করা হয়েছে, যা 4-স্ট্রোক, 2-ভালভ, একক সিলিন্ডার, উল্লম্ব ইঞ্জিন। এটি সর্বাধিক শক্তি 16.8 বিএইচপি @ 8000 আরপিএম এবং সর্বাধিক টর্ক 17 এনএম @ 6500 আরপিএম উৎপাদন করতে পারে। লিফান দাবি করেছে যে এর শীর্ষ গতি প্রতি ঘন্টায় প্রায় 135 কিলোমিটার এবং মাইলেজ প্রতি লিটারে প্রায় 38 কিলোমিটার। এই বাইকটি সম্পর্কে আরও বিশদ নীচে দেওয়া হল।
Key Features of Lifan KPR 165
Price in Bangladesh
210,000 BDT
Mileage Per Liter
38 Kmpl (comb..)
Top Speed Ability
135 Kmph (appr..)
Engine CC & Type
165cc liquid-cooled
Lifan KPR 165 Real Images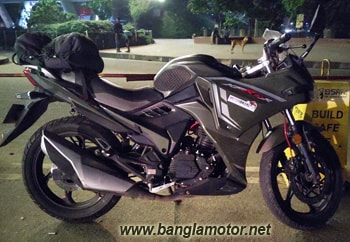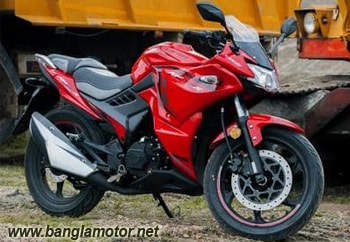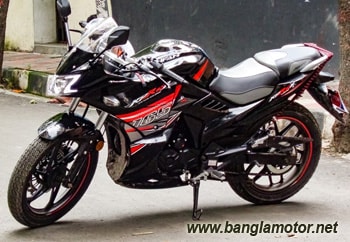 Body Dimensions

Length / Width / Height
2060 mm / 760 mm / 1105 mm
Wheel base
1330 mm
Ground clearance
165 mm
Kerb weight
140 Kg
Fuel tank capacity
14 Ltrs

Engine Details

Type
4-stroke, 2-valve, single cylinder, Vertical engine
Displacement
165 cc
Max net power
16.8 BHP @ 8000 RPM
Max net torque
17 NM @ 6500 RPM
Starting method
Electric
Ignition
CDI

Transmission Details

Gear type
Manual
Number Of Speed Gears
6 Speed

Tyres & brakes

Tyre Size (Front)
90/90-17
Tyre Size (Rear)
120/80-17
Wheel Type
Alloy
Brakes Front
Disc
Brakes Rear
Disc

Frame & Suspension

Suspension-Front
Telescopic Hydraulic Shock Absorbers
Suspension-Rear
Monoshock

Electricals

Battery
12 V, MF
Head Lamp
12V - 35W
Here mentioned information may not 100% accurate. Most of the information we are collecting from manufacturer website. There is always having a change to make mistake while adding information. Kindly inform us, if you found any kinds of mistake.
Lifan Motorcycle Showroom
Bangladesh Motors Address: District Scout Building, Kalibari Road, Barishal Dist. / City: Barishal Phone: 01715941837
Ridhoy Enterprise
Address:
Gohail Road, Sutrapur, Bogra
Dist. / City:
Bogra
Phone:
01718995984
Bappy Traders Address: Shibganj, Bogra Dist. / City: Bogra Phone: 01774759497
M M R Motors Address: Faridganj, Chandpur Dist. / City: Chandpur Phone: 01737781900
K D A Motors
Address:
Muradpur, Chittagong
Dist. / City:
Chittagong
Phone:
01714080932
B M Motors Address: Fatikchori, Chittagong Dist. / City: Chittagong Phone: 01720935837
Shorojganj Motors
Address:
Shorojganj, Chuadanga
Dist. / City:
Chuadanga
Phone:
01718293361
Honda Service
Address:
Chuadanga
Dist. / City:
Chuadanga
Phone:
01716046082
Venus Auto Address: Abul Kashem Sarak, Chuadanga Dist. / City: Chuadanga Phone: 01914498958
Lucky Motors
Address:
Laksam, Comilla
Dist. / City:
Comilla
Phone:
01711334295,
Lifan Sales Point
Address:
Laksham Road, Comilla
Dist. / City:
Comilla
Phone:
01729482981,
R R Bike Sales Center Address: Nichintapur, Cantonment Comilla Dist. / City: Cantonment Comilla Phone: 01717960581
Nabill Motors Address: Main Road, Cox'sbazar Dist. / City: Cox'sbazar Phone: 01711315320
Salauddin Automobiles
Address:
780/19/A, Bosila Road, Mdpur, Dhaka
Dist. / City:
Dhaka
Phone:
01911444340,
New Bike Center
Address:
363 DIT Road, East Rampura, Dhaka
Dist. / City:
Dhaka
Phone:
01797321126,
One Motor Corporation
Address:
22/6-A Dhakeshori Road, Palashi, Dhaka
Dist. / City:
Dhaka
Phone:
01750053640,
Amco Traders
Address:
1/5 Satmosjid Road, Mohammodpur Bus Stand, Dhaka
Dist. / City:
Dhaka
Phone:
01713066453
New Bike Center Address: 28, New Eskaton Road (Shop No-8) Dhaka Dist. / City: New Eskaton Road (Shop No-8) Dhaka Phone: 01797321126
Mithila Motors
Address:
Birampur, Dinajpur
Dist. / City:
Dinajpur
Phone:
01822410170,
New Gaosia Traders Address: Cirirbondor, Dinajpur Dist. / City: Dinajpur Phone: 01712240772
Bapari Motors Address: Sadarpur, Faridpur Dist. / City: Faridpur Phone: 01739223957
Mozib & Brothers
Address:
Feni Sadar
Dist. / City:
Feni
Phone:
01742352068,
Rakib Motors Address: 65, Rashed Building, SSK Road, Feni Dist. / City: Feni Phone: 01719332633
Honda Corner Address: Gaibandha Sadar Dist. / City: Gaibandha Phone: 01712166481
Bismillah Motors
Address:
Pollibiddut, Gazipur
Dist. / City:
Gazipur
Phone:
01713579374,
Rafa Electronics Address: Kaliganj, Gazipur Dist. / City: Gazipur Phone: 01716383064
Eiva Motors Address: Shaestanagar, Hobiganj Dist. / City: Hobiganj Phone: 01712398794
Sheba Motors
Address:
Jamalpur Sadar
Dist. / City:
Jamalpur
Phone:
01711105235,
Sonoth Motors
Address:
Doyoamoyee Road, Jamalpur
Dist. / City:
Jamalpur
Phone:
01713535842,
Akota Motors Address: Jamalpur Sadar Dist. / City: Jamalpur Phone: 01714005827
Venus Auto
Address:
22, Rail Road, Jessore
Dist. / City:
Jessore
Phone:
01914498960
Venus Auto
Address:
Haspatal Road, Bagharpar, Jessore
Dist. / City:
Jessore
Phone:
01914498976
Venus Auto
Address:
Main Road, Monirampur, Jessore
Dist. / City:
Jessore
Phone:
01914498952
Venus Auto
Address:
Kotchadpur Road, Chougasa, Jessore
Dist. / City:
Jessore
Phone:
01914498974
Venus Auto Address: Nowapara, Ovoynagar, Jessore Dist. / City: Jessore Phone: 01914498953
General Auto Address: Shohid Moshiur Rahman Road, Jhenaidah Dist. / City: Jhenaidah Phone: 01552469462
Fakir Auto
Address:
Khan Jahan  Ali Road, Khulna
Dist. / City:
Khulna
Phone:
01914404638
Nina Motors Address: Seven star market, Sonadanga, Khulna Dist. / City: Khulna Phone: 01718124097
Liton Motors
Address:
Hossenpur, Kishoreganj
Dist. / City:
Kishoreganj
Phone:
01611025025
Khan Enterprise
Address:
Kishoreganj Sada
Dist. / City:
Kishoreganj
Phone:
01712412904
Shanto Motors
Address:
Karimganj, Kishoreganj
Dist. / City:
Kishoreganj
Phone:
01730432577
Sunflower Motors
Address:
Voirob, Kishoreganj
Dist. / City:
Kishoreganj
Phone:
01711698173
Farazi Motors Address: Kotiadi, Kishoreganj Dist. / City: Kishoreganj Phone: 01711459877
Sarkar Motors
Address:
Nageshwari, Kurigram
Dist. / City:
Kurigram
Phone:
01716671270
Sarkar Motors Address: Sobujpara, Kurigram Dist. / City: Kurigram Phone: 01716671270
Shova Traders Address: B D R Road, Lalmonirhat Dist. / City: Lalmonirhat Phone: 01722494794
Rafin Electronics
Address:
Raipur, Laxmipur
Dist. / City:
Laxmipur
Phone:
01718526846
K Rahman Traders Address: Ramganj, Laxmipur Dist. / City: Laxmipur Phone: 01818942037
Walid Motors Address: Manikganj Sadar Dist. / City: Manikgonj Phone: 01761850188
Modern Honda Address: Bodrunnesa Super Market Dist. / City: Market Phone: 01814128035
F M Motors Address: Court Road, Bokultola, Meherpur Dist. / City: Meherpur Phone: 01971850655
Jubayer Motors Address: Kulaura, Moulovibazar Dist. / City: Moulovibazar Phone: 01971580433
Bike Gallery
Address:
Holding No-59, Rambabu Road, Mymensingh
Dist. / City:
Mymensingh
Phone:
01710763466
Zilani Motors
Address:
Issorganj, Mymensingh
Dist. / City:
Mymensingh
Phone:
01866439614,
Vay vay khaza motors Address: Fulbaria, Mymensingh Dist. / City: Mymensingh Phone: 01740545469
Nasim Enterprise Address: Sapahar, Naogaon Dist. / City: Naogaon Phone: 01728172467
S A Motors Address: Velanagar, Narsingdi Dist. / City: Narsingdi Phone: 01715152581
Dhaka Machineries Address: Natore Dist. / City: Natore Phone: 01743905921
Green Power Enterprise Address: Kendoa, Netrokona Dist. / City: Netrokona Phone: 01678832601
A K Enterprise Address: Dimla, Nilphamari Dist. / City: Nilphamari Phone: 01768963258
Mayer Doa Enterprise Address: Joldhaka, Nilphamari Dist. / City: Nilphamari Phone: 01715887046
Apon Traders Address: Bokker Mor, Domar, Nilphamari Dist. / City: Nilphamari Phone: 01745293921
Venus Auto Address: Rupgonjbajar, Mosjid Market, Norail Dist. / City: Norail Phone: 01914498956
Venus Auto Address: Loxmipasa Bus stand, Lohagora, Norail Dist. / City: Norail Phone: 01914498956
Rabbi Motors Address: Kashinathpur, Pabna Dist. / City: Pabna Phone: 01716141674
Rasel Industries Ltd Address: H-4,R-28,B-D, Avenue-3,Kalshi Road, Pallabi,Mirpur-11,Dhaka Dist. / City: Pallabi,Mirpur-11,Dhaka Phone: 01789882222
Asha Enterprise Address: Boda, Panchagarh Dist. / City: Panchagarh Phone: 01783842365
Asia Motors Address: Panchgarh Sadar Dist. / City: Panchagarh Phone: 01717817124
Hashib Motors Address: Ataikula, Panna Dist. / City: Panna Phone: 01737694221
Akram Enterprise Address: Keshorehat, Rajshahi Dist. / City: Rajshahi Phone: 01718577339
F M Electronics Address: Nawhata, Rajshahi Dist. / City: Rajshahi Phone: 01716719908
Mahir Motors Address: Rangpur Sadar Dist. / City: Rangpur Phone: 01740954979
Rasel Machineries Address: Chotrahat, Rangpur Dist. / City: Rangpur Phone: 01711416676
Rokeya Traders Address: Khalashpir, Rangpur Dist. / City: Rangpur Phone: 01713726525
Fancy Electronics Address: Parulia, Satkhira Dist. / City: Satkhira Phone: 01712057015
Oyshi Motors Address: Sirajganj Sadar Dist. / City: Sirajgonj Phone: 01711902700
S A Traders Address: Sunamganj Sadar Dist. / City: Sunamgonj Phone: 01712731575
Golden Motors
Address:
Uposhohor, Sylhet
Dist. / City:
Sylhet
Phone:
01717490419
Motorcycle Museum Address: Bianibazar, Sylhet Dist. / City: Sylhet Phone: 01713414994
Ani Motors
Address:
Dhanbari, Tangail
Dist. / City:
Tangail
Phone:
01778682556
Anik Electronics & Motors
Address:
Gofur Fakir Market, Pourosova, Road, Bhuapur, Tangail
Dist. / City:
Tangail
Phone:
01710298683
Rasel Motors Address: Jamalpur Road, Modhupur, Tangail Dist. / City: Tangail Phone: 01714097767
Antaz Motors Address: Ranisonkoil, Thakurgaon Dist. / City: Thakurgaon Phone: 01730438907
Select Brand for More Bike Details
Search Here, what you are Looking