Quick Overview
The Bajaj V15 is a special motorcycle! Company has worked on an all new design for this 150cc commuter bike, which is metal forged from the INS Vikrant. Most parts of this bike are made from scrap steel of the Indian Naval Ship (INS) Vikrant, which was used in Bangladesh independence war 1971 against West Pakistan. In Bangladesh point of view the bike is significant.
- The main attraction of this bike is its unique design, which is a classic bike. Powerful engine, aggressive headlight design and eye-catching graphics are the key assets of this bike.
- There is no noticeable change to this bike at the beginning of 2021. Although Bajaj has officially stopped selling this bike model in the Bangladesh market.
It used the Bajaj 149.5cc engine. The maximum power of this bike is 11.83 BHP @ 7500 rpm and the maximum torque 13 NM @ 5500 rpm, which is single cylinder, 4 stroke, SOHC, 2 valve, air cooled, DTS-i. A 5-speed manual gear has been used in this bike, and it can run at a maximum speed of 107 kilometers per hour. It contains 13 liters of fully equipped fuel tank. It is capable of crossing the maximum 50 kilometers per liter of fuel. More details about this bike in the following statement.
সংক্ষিপ্ত বিবরণ
Bajaj V15 একটি বিশেষ বাইক। ১৫০ সিসি অংশে একটি পরিপূর্ণ নতুন বিশেষ এ মডেল এর জন্য বাজাজ কাজ করেছে, যেটির অধিকাংশ যন্ত্রাংশ Indian Naval Ship (INS) Vikrant এর পরিত্যক্ত ধাতু দিয়ে তৈরি। Indian Naval Ship (INS) Vikrant ১৯৭১ সালে বাংলাদেশের স্বাধীনতা যুদ্ধে ব্যবহৃত হয়েছিলো পূর্ব পাকিস্তানের বিপক্ষে। বাংলাদেশের প্রেক্ষাপটে Bajaj V15 বাইকটি খুবই তাৎপর্যপূর্ণ ।
- এ বাইকটির মূল আকর্ষণ হচ্ছে, এটি একটি অনন্য নকশার বাইক, যা ক্লাসিক শ্রেণীভুক্ত। এছাড়াও শক্তিশালী ইঞ্জিন, আক্রমনাত্মক হেডলাইট ডিজাইন এবং নজরকাড়া গ্রাফিক্স বাইকটির মূল সম্পদ।
- ২০২১ সালের শুরুতে এই বাইকটিতে উল্ল্যেখযোগ্য কোন পরিবর্তন আসেনি। যদিও Bajaj অফিসিয়ালি বাংলাদেশের বাজারে তাদের এই বাইক মডেলটি বিক্রি বন্ধ করে দিয়েছে।
এটিতে Bajaj ১৪৯.৫ সি সি ইঞ্জিন ব্যবহার করেছে। যা Single cylinder, 4 stroke, SOHC 2 valve, Air cooled, DTS-i, এই ইঞ্জিনে সর্বোচ্চ শক্তি 11.83 BHP @ 7500 rpm এবং সর্বোচ্চ ঘূর্ণন বল 13 NM @ 5500 rpm। এ বাইকটিতে ৫ গতির গিয়ার ব্যবহার করা হয়েছে, এবং এটি সর্বোচ্চ ১০৭ কিলোমিটার বেগে প্রতি ঘন্টায় চলতে পারে। এতে রয়েছে ১৩ লিটার ধারন ক্ষমতা সম্পূর্ণ জ্বালানী ট্যাংক। প্রতি লিটার জ্বালানীতে এটি সর্বোচ্চ ৫০ কিলোমিটার পথ অতিক্রম করতে সক্ষম।বাইকটি সম্পর্কে আরো বিস্তারিত নিম্নের বিবরণীতে।
Key Features of Bajaj V
Price in Bangladesh
159,500 BDT
Mileage Per Liter
40 Kmpl (comb..)
Top Speed Ability
115 Kmph (appr..)
Engine CC & Type
150cc air-cooled
Bajaj V 15 Real Images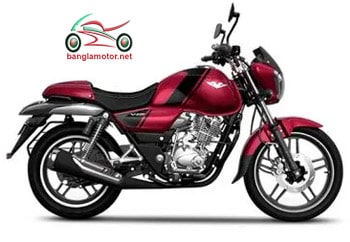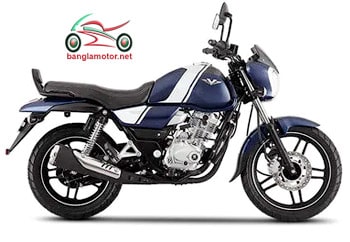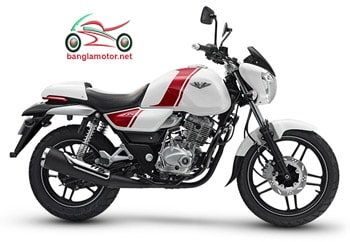 Body Dimensions

Length / Width / Height
2044 mm / 780 mm / 1070 mm
Wheel base
1315 mm
Ground clearance
165 mm
Kerb weight
135.5 kg
Fuel tank capacity
13 litres

Engine Details

Type
Single cylinder, 4 stroke, SOHC 2 valve, Air cooled, DTS-i
Displacement
149.5 cc
Max net power
11.83 BHP @ 7500 rpm
Max net torque
13 NM @ 5500 rpm
Bore
56 mm
Starting method
Electric-Kick
Fuel System
Carburetor

Transmission Details

Gear type
Manual
Number Of Speed Gears
5 Speed

Tyres & brakes

Tyre Size (Front)
90/90 - 18 51P
Tyre Size (Rear)
120/80 -16 60P
Wheel Size
Front :-18 inch, Rear :-16 inch
Brakes Front
240mm Disc
Brakes Rear
130mm Drum

Frame & Suspension

Chassis Type
Double-cradle chassis
Suspension-Front
Telescopic Hydraulic Shock Absorbers
Suspension-Rear
Swing Arm with 5 step Adjustable Hydraulic Shock Absorber

Electricals

Battery
12 V, 2.5 Ah
Head Lamp
12V - 35W / 35W - Halogen bulb (Multi Reflector Type)
Here mentioned information may not 100% accurate. Most of the information we are collecting from manufacturer website. There is always having a change to make mistake while adding information. Kindly inform us, if you found any kinds of mistake.