Quick Overview
Honda Dio, the scooter model was first introduced in Japan in January 1988. The name is copied from the son of Venus "Dionysiac". The Honda Dio was the first scooter to be introduced in India. It is now manufactured and assembled in India also by Honda's HMSI subsidiary; recently Honda added this scooter in Bangladeshi marketplace.
- Good mileage and Hassle free service are the attraction of this model.
- Really good acceleration and Good handling due to the light body.
- There is no noticeable change to this scooter "Honda Dio" at the beginning of 2021. Its retail price has changed in the Bangladeshi market at the mid of 2021.
The Honda uses a 109.19cc engine on the scooter, which is Fan Cooled, 4 Stroke, SI engine with BS4 technology. Its maximum power is 8 Bhp @ 7000 rpm and maximum torque 8.91 Nm @ 5500 rpm. Automatic gear system has also been used in this scooter, which is always supportive to new riders. It is capable of running at a maximum speed of 83 kilometres per hour, and it can run an average of 55 kilometres per liter of fuel. More details about the bike in the following statement.
সংক্ষিপ্ত বিবরণ
Honda Dio, স্কুটার মডেলটি প্রথম জাপানে জানুয়ারী 1988 সালে চালু করা হয়েছিল। এই নামটি শুক্র গ্রহের "ডোননিসিয়াক" নামকরণ থেকে এসেছে। Honda Dio ভারতের বাজারেও প্রথম স্কুটার ছিল। এটি এখন হন্ডা এর HMSI সাবসিডিয়ারি দ্বারা ভারতে নির্মিত এবং একত্রিকরণ হচ্ছে; সম্প্রতি Honda বাংলাদেশি বাজারেও এই স্কুটারটি যোগ করেছে।
- ভালো মাইলেজ এবং ঝামেলাহীন সার্ভিস এর জন্য বাইকটির সুনাম রয়েছে।
- হালকা ওয়েটের কারণে এটির মুভমেন্ট এবং হ্যান্ডলিং ভালো হয়।
- ২০২১ সালের শুরুতে "Honda Dio" বাইকটিতে উল্ল্যেখযোগ্য কোন পরিবর্তন আসেনি। বাংলাদেশের বাজারে এটির খুচরা মূল্য পরিবর্তিত হয়েছে।
তাদের এ স্কুটারে 109.19 সিসি ইঞ্জিন ব্যবহার করে, যা Fan Cooled, 4 Stroke, SI engine with BS4 technology। এর সর্বাধিক ক্ষমতা 8 Bhp @ 7000 rpm এবং সর্বাধিক টর্ক 8.91 Nm @ 5500 rpm। স্বয়ংক্রিয় গিয়ার্স সিস্টেমটিও এই স্কুটারে ব্যবহার করা হয়েছে, যা সবসময় নতুন রাইডারদের পক্ষে সহায়ক। এটি প্রতি ঘন্টায় সর্বোচ্চ 83 কিলোমিটার গতিতে চলতে সক্ষম এবং এটি প্রতি লিটার জ্বালানী প্রতি 55 কিলোমিটার চালাতে পারে।
Key Features of Honda Wave
Price in Bangladesh
150,900 BDT
Mileage Per Liter
55 Kmpl (comb..)
Top Speed Ability
83 Kmph (appr..)
Engine CC & Type
110cc air-cooled
Honda Dio Authentic Image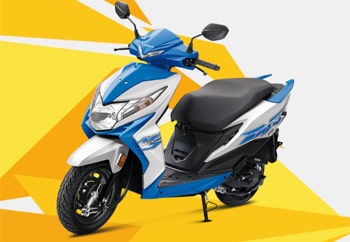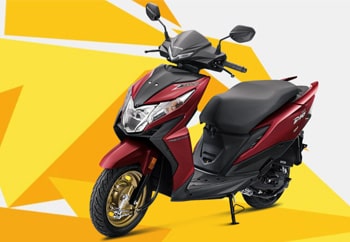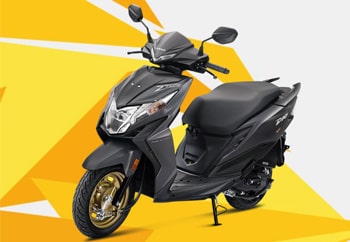 Top Features
ABS Availability:
no
Graphics:
Yes
Type of Seat:
Single
Starting Method:
Kick and Self Start
Pass Switch Availability:
Yes
Speedometer Category:
Digital
Trip Meter Availability:
Digital
Distance to Empty:
Yes
Fuel Warning:
Yes
External Fuel Filling:
Yes
Footrest:
Yes
Carry hook:
Yes
Underseat storage:
Yes
Engine Cooling Method:
Air Cooled
Instrument Console:
Digital
Odometer Availability:
Digital
Service Due Indicator:
Yes
DRLs Availability:
Yes
Bike Engine
Bike Engine:
Fan Cooled, 4 Stroke, SI Engine
Displacement:
109.51 cc
Maximum Power:
7.76 PS @ 8000 rpm
Emission:
bs6
Maximum Torque:
9 Nm @ 4750 rpm
Bore:
47.0 mm
Stroke:
63.1 mm
Number Of Cyl:
1
Driving Type:
Belt Drive
Fuel:
Petrol
Compression Ratio:
10.0+0.2
About Transmission
Transmission:
Automatic
Transmission:
Automatic
Number Of Gears:
CVT
Brake Details
Front Brake:
Drum
Rear Brake:
Drum
Chassis & Suspension
Chassis:
Under Bone
Front Suspension:
Telescopic Suspension
Rear Suspension:
3-Step Adjustable, Spring Loaded Hydraulic
Wheels
Tyre Size:
Front :-90/90-12, Rear :-90/100-10
Wheel Size:
Front :-304.8 mm, Rear :-254 mm
Radial Tyre Availability:
Yes
Tyre Type:
Tubeless
Wheels (Steel / Alloy):
Alloy
Here mentioned information may not 100% accurate. Most of the information we are collecting from manufacturer website. There is always having a change to make mistake while adding information. Kindly inform us, if you found any kinds of mistake.