KTM RC 125 Price in BangladeshWith quick Specifications and Overview
| | |
| --- | --- |
| KTM RC 125 European (ABS) | Tk.470,000.00 |
| KTM RC 125 Indian (ABS) | Tk.430,000.00 |
Last Update: 10-Mar-2022
Motorcycle Loan EMI Calculator
বাইকের কিস্তির পরিমান এবং সর্বমোট মূল্য নির্ণয়ক
Fill in the blanks in English
Quick Overview
KTM RC 125 is an introductory bike from RC series of Austrian bike manufacturer KTM. KTM is popular worldwide as a bike brand from a modern mature and trustworthy place. In the continuation of this series, some of the KTM bike models are also available in Bangladeshi market. KTM RC 125 is one of them, which is a dashing sports bike.
- The KTM RC 125, Indian and European version, also has a number of differences of which the KTM RC 125 Indian version has a weight of 154 kg which is about 19 kg heavier than the European version.
- The Indian version of KTM RC 125 includes a saree guard, a grab handle and a tire hugger, which are not in the European version.
- The KTM RC 125 Indian edition is being built by Bajaj Auto, where price is one of the main issues. The European version of the KTM RC 125, on the other hand, is quite expensive.
The bike used 149 cc engines, which is Vertical Single-Cylinder, Liquid-Cooled, and 4-Stroke. Its maximum power is 14.8Bhp @ 8500rpm and the maximum torque is 14Nm @ 6500rpm. It uses 6-speed manual gear, and its maximum speed is 136 kilometers per hour. The bike, which has 14 liters of fuel capacity, is able to cross about an average of 45 kilometers per liter of fuel. Front and Rear both are disc brakes.
সংক্ষিপ্ত বিবরণ
KTM RC 125 এটি Austrian বাইক প্রস্তুতকারী কোম্পানী KTM এর RC সিরিজের একটি প্রারম্ভিক বাইক। একটি আধুনিক পরিপক্ক এবং আস্থার জায়গা থেকে বিশ্বব্যাপী বাইক ব্র্যান্ড KTM এর দারুন পরিচিতি। এরি ধারাবাহিকতায় এ ব্র্যান্ডের অল্পকিছু বাইক বাংলাদেশের মার্কেটেও পাওয়া যাচ্ছে। KTM RC 125 বাংলাদেশে এটির মূল্য তুলনামূলক একটু বেশি হলেও বাংলাদেশী সৌখিন বাইকাররা এটি তাদের সংগ্রহে রাখছেন।
- KTM RC 125, ভারতীয় এবং ইউরোপিয়ান সংস্করনের মধ্যেও বেশ কিছু প্রার্থক্য রয়েছে, যার মধ্যে চোখে পড়ার মত হচ্ছে KTM RC 125 ভারতীয় সংস্করনটির ওজন ১৫৪ কেজি যা ইউরোপিয়ার সংস্করনের চাইতে প্রায় ১৯ কেজি বেশি।
- KTM RC 125, ভারতীয় সংস্করনে রয়েছে শাড়ী গার্ড, গ্রেব হেন্ডেল এবং টায়ার hugger, যা ইউরোপিয়ার সংস্করনে নেই।
- KTM RC 125, ভারতীয় সংস্করনটি Bajaj Auto তৈরি করছে, যেখানে সাস্রয়ীতা অন্যতম প্রধান বিষয়। অন্যদিকে KTM RC 125 ইউরোপিয়ান সংস্করনটি অনেকটাই ব্যয়বহুল।
এ বাইকটিতে ১২৪.৭ সি সি ইঞ্জিন ব্যবহার করা হয়েছে যা, Single Cylinder, 4-Stroke Engine, এবং Water-Cooled। এটির সর্বোচ্চ শক্তি (14.8 Bhp) 15 HP @ 9500 rpm এবং সর্বোচ্চ ঘূর্ণন বল 11.8 Nm @ 8000 rpm উৎপন্ন করতে সক্ষম। এতে ৬ গতির ম্যানুয়ল গিয়ার ব্যবহার করা হয়েছে, এবং এটির সর্বোচ্চ গতি ১২৫ কিলোমিটার প্রতি ঘন্টায়। ১০ লিটার জ্বালানী ধারণ ক্ষমতা সম্পন্ন এ বাইকটি প্রতি লিটার জ্বালানীতে গড়ে প্রায় ৪০ কিলোমিটার পথ অতিক্রমে সক্ষম। বাইকটি সম্পর্কে আরো বিস্তারিত নিম্নের বিবরণীতে।
Key Features of KTM RC
Price in Bangladesh
470,000 BDT
Mileage Per Liter
36 Kmpl (comb..)
Top Speed Ability
125 Kmph (appr..)
Engine CC & Type
125cc oil-cooled
KTM RC 125 Real Images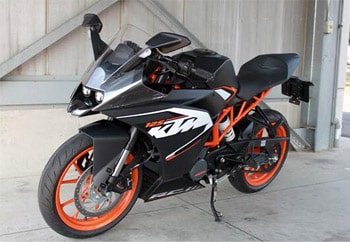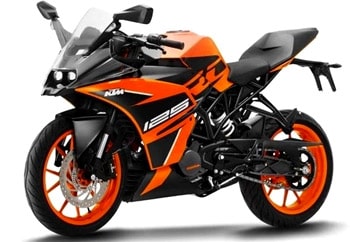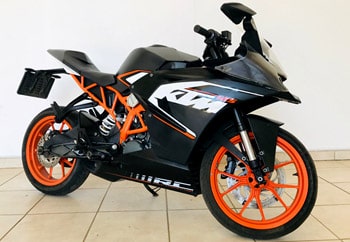 Top Features
ABS Availability:
Single Channel
Type:
Sports Bikes
Graphics:
Yes
Type of Seat:
Split
Starting Method:
Self Start Only
Pass Switch Availability:
Yes
Speedometer Category:
Digital
Trip Meter Availability:
Digital
Fuel Warning:
Yes
Clock Availability:
Yes
Low Battery Indicator:
Yes
Stepup Seat:
Yes
Footrest:
Yes
Engine Cooling Method:
Liquid Cooled
Instrument Console:
Digital
Odometer Availability:
Digital
Bike Engine
Bike Engine:
Single Cylinder, 4 Valve, Liquid Cooled, FI, DOHC
Displacement:
124.7 cc
Maximum Power:
14.5 PS @ 9250 rpm
Emission:
bs6
Maximum Torque:
12 Nm @ 8000 rpm
Bore:
58 mm
Stroke:
47.2 mm
Number Of Cyl:
1
Driving Type:
Chain Drive
Valve / Cylinder:
4
Fuel:
Petrol
About Transmission
Number Of Gears:
6-Speed
Brake Details
Front Brake:
Disc
Rear Brake:
Disc
Chassis & Suspension
Front Suspension:
WP-USD Ø 43 mm
Chassis:
Steel Trellis Frame
Rear Suspension:
WP-Monoshock
Wheels
Tyre Size:
Front :-110/70-R17, Rear :- 150/60-R17
Wheel Size:
Front :-431.8 mm,Rear :-431.8 mm
Tyre Type:
Tubeless
Wheels (Steel / Alloy):
Alloy
Overall Dimension
Dry Weight:
154.2 kg
Overall Length:
1977 mm
Wheelbase:
1341 mm
Ground Clearance:
178.5 mm
Fuel Tank Capacity:
9.5 Liters
Tail Light:
LED
Brake Diameter (Front):
300 mm
Brake Diameter (Rear):
230 mm
Overall Dimension
LED tail lights:
Yes
Signal Lamp:
LED
Here mentioned information may not 100% accurate. Most of the information we are collecting from manufacturer website. There is always having a change to make mistake while adding information. Kindly inform us, if you found any kinds of mistake.