FKM Street Fighter 165 SF Price in BD
FKM Street Fighter 165 SF Price in Bangladesh is Tk.189,900
Bike Edition Dual Disc Brake Edition
Lust Update: 05-Jan-2021
Quick Overview
FKM Street Fighter designed to create a unique stance in its category.The model is not just a cool looking bike, it also a perfect ergonomics, which allow the riders to feel perfectly integrated performance. Only FKM Streetfighter 165 is available in Bangladesh market among three other. The Streetfighter full series is widely admired worldwide including Bangladesh. FKM is a German origin public limited company.
- It has ultra bright & aggressive looking LED lights, which make the Street Fighter 165 safer and unique.
- The Street Fighter also have high strength street frame which coupled with 37mm inverted forks and as well as 2 stage rear shock.
- Its multifuncational LCD display integrates the whole vehicle information. You can see all the data clearly, for making your riding experience safer and fun.
- The bike has its own Bluetooth identification function, which can be used to download the real time vehicle information through the mobile phone APP.
The bike uses 164cc Single Cylinder, Air-Cooled engine, which maximum power is 15.0 HP @ 8000 RPM and maximum torque is 14.5 NM @ 7500 RPM. The bike fuel system is FI (fuel injection). The FKM Streetfighter 165 SF mileage is 40 Kmpl, and its top speed 120 Kmph. Please see the full specification below.
সংক্ষিপ্ত বিবরণ
FKM Street Fighter বাইকটি তৈরির লক্ষ এর বিভাগে একটি অনন্য অবস্থান তৈরি। এ বাইকটি কেবল দেখতেই আকর্ষণীয় নয়, এটি একটি নিখুঁত কর্মদক্ষতার প্রতিক, যা চালকদের যথাযথ কর্মক্ষমতা অনুভব দেয়। বাংলাদেশের বাজারেও FKM এর এ সম্ভাবনাময় বাইকটি পাওয়া যাচ্ছে। এই স্ট্রিটফাইটার পূর্ণ সিরিজটি বাংলাদেশ সহ বিশ্বব্যাপী ব্যাপক প্রশংসিত। FKM একটি জার্মান অরিজিন পাবলিক লিমিটেড কোম্পানি।
- এ বাইকটিতে নিজস্ব ব্লুটুথ শনাক্তকরণ ফাংশন রয়েছে, যা মোবাইল ফোন অ্যাপের মাধ্যমে রিয়েল টাইম বাইকের তথ্য ডাউনলোড করতে ব্যবহার করা যেতে পারে।
- এটির বহুমুখী এলসিডি ডিসপ্লে প্রায় পুরো গাড়ির তথ্যকে প্রদর্সন করে। বাইকচালানো নিরাপদ এবং মজাদার করার জন্য সমস্ত ডেটা দারুন সাহায্য করে।
- স্ট্রিট ফাইটার বাইকটিতে উচ্চ শক্তির স্ট্রিট ফ্রেমও রয়েছে যা 37 মিমি ইনভার্টেড suspension এবং এর পাশাপাশি 2 স্টেজ রিয়ার শক।
- এটিতে অতি উজ্জ্বল এবং আগ্রাসী দেখতে এলইডি লাইট রয়েছে যা এ বাইকটিকে নিরাপদ এবং অনন্য করে তোলে। এটির জ্বালানি পদ্ধতি Fuel-Injunction।
বাইকটিতে 164 সিসি সিঙ্গল সিলিন্ডার, এয়ার-কুলড ইঞ্জিন ব্যবহার করা হয়েছে, যা সর্বোচ্চ শক্তি 15.0 এইচপি @ 8000 আরপিএম এবং সর্বাধিক টর্ক 14.5 এনএম @ 7500 আরপিএম। বাইকের জ্বালানী সিস্টেমটি এফআই (ফুয়েল ইঞ্জেকশন)। এফকেএম স্ট্রিটফাইটার 165 এসএফ মাইলেজ প্রায় 40 কিলোমিটার, এবং এর শীর্ষ গতি প্রায় 120 কিলোমিটার প্রতি ঘন্টা।
Key Features of FKM Street Fighter 165 SF
Price in Bangladesh
189,900 BDT
Mileage Per Liter
40 Kmpl (comb..)
Top Speed Ability
120 Kmph (appr..)
Engine CC & Type
164cc air-cooled
FKM Street Fighter 165 Real Images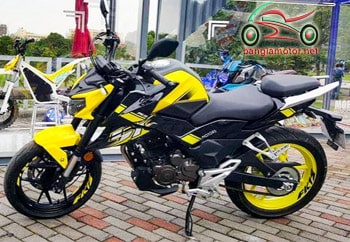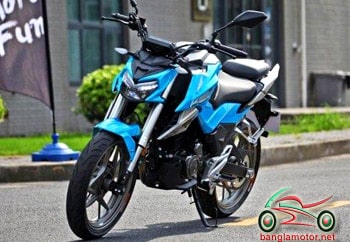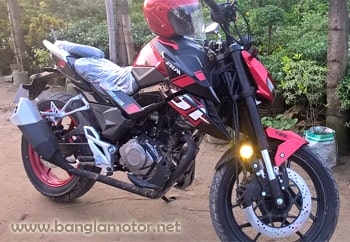 Body Dimensions

Length / Width / Height
2050 mm / 800 mm / 1075 mm
Kerb weight
135 kg
Fuel tank capacity
17 L

Engine Details

Type
Air Cooled, 4-Stroke, Single Cylinder
Displacement
164 cc
Maximum Power
15.0 bhp @ 8000 rpm
Maximum Torque
14.5 Nm @ 7,500 rpm
Starting method
Electric
Fuel System
Fuel Injection

Transmission Details

Gear type
Manual
Number Of Speed Gears
6 Speed

Tyres & brakes

Tyre
100/70-17
Tyre
140/70-17
Brakes Front
Disc
Brakes Rear
Disc

Frame & Suspension

Suspension-Front
37 mm Telescopic USD
Suspension-Rear
Monoshock

Electricals

Battery
12 V, 4 Ah
Head Lamp
12 V - 35 W / 35W
Here mentioned information may not 100% accurate. Most of the information we are collecting from manufacturer website. There is always having a change to make mistake while adding information. Kindly inform us, if you found any kinds of mistake.